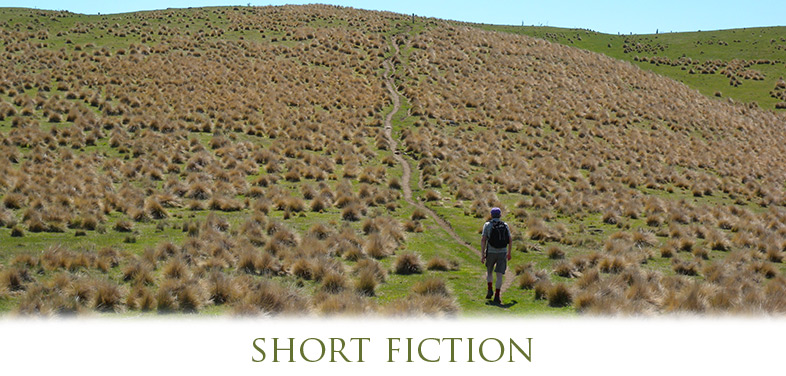 In 2005, my short story I saw them make sausages out of Aldo Falzone's horse was runner up in the Middlesex University Literary Prize. It was published in the accompanying Anthology of that year.  Sadly the book is out of print.
At the moment I am working on a collection of short stories under the title Her Divided Heart. Here are tasters of two of those stories.
Her Divided Heart
They pushed her along in a wheelchair, juddering across cracks in the path, each of the sisters treading cautiously, suspicious of the slippery lichen. She was well wrapped against the chill: tartan blanket for her knees, fur-lined gloves, felt hat pulled low, as low her ears would allow. Only her face was exposed, her shrunken cheeks flushed with anticipation, her brow a furrowed ridge of white bristles; blue, blue eyes missing nothing. 


Nance used a stick and was inclined to lumber. Bertha's lungs had never fully recovered from pleurisy and she wheezed and rattled and pulled her coat tighter across her chest, silently cursing the damp air. At fifty-four, Tess was the youngest of the sisters. She was the most able and did much of the pushing. There was an older sister, too, Lila, but she couldn't make the journey; didn't even know it was happening. Lila had been unwell for years.


"It's along this way," Tess said, negotiating the cumbersome chair onto a narrower path. "It's about half-way down here, on the left."


She had come to the cemetery the day before to search out the grave. "Why don't you two stay here with Mum?" Tess suggested over breakfast. "I'll head out there and scout around."


So Nance and Bertha had whiled away a pleasant morning in the front room of the Belvedere Guest House, Nance playing Patience and Bertha with her needlework. Their mother, meanwhile, had spent the best part of two hours staring out through the window at the port of Timaru.


"Here we are," Tess said, stopping in front of a waist-high Celtic cross. "This is it." She turned the chair so that her mother faced the headstone and leaned down to speak into her ear. "This is it, Mum. Isn't it?"


The women were silent, all eyes on the headstone. This was the reason for their pilgrimage, the end point of a difficult journey. Grouped together, yet separated in thought, they read the epitaph again and again, deciphering the words, taking in the shape of the stone, its pits and pock marks like some kind of creeping skin disease.


"Now you girls, run along." Vee Hurley spoke to her daughters as if they were children, as if they should go out and play in the yard until tea. "Come back and get me in fifteen minutes."


Nance started to protest, but Tess linked arms with her sisters and gently edged them away down the path.

Want to read more? Look out for Her Divided Heart.
With any luck, it might just be Paradise
She is conspicuous as she makes her way along Royal Parade, walking with a lilt, the rise and fall of her step causing her to sashay. It's an impudent walk. Men gawp and stumble as she passes; brazen boys wolf-whistle her retreating figure. The matrons of Melbourne, however, buttoned and pleated with propriety, give her wide berth. Some even clutch at their handbags and cross the road.


"Hussy," they whisper. "Shameful."
"New Australian," they sniff.
"Asking for it."


Katya Vanags is a comely woman, big breasted; narrow hipped. She is swathed in a fantasy of garments: diaphanous floral blouse, striped vest, embroidered petticoats and skirts of varying lengths, a ripple of scarves caught here and there with glittery brooches. She wears brightly coloured beads, too, of a kind that children might be tempted to lick. Her ash-blonde hair is interlaced with flowers and coiled around her ears. On her feet are wedge-heeled sandals that gape around her ankles. Her toenails are painted cherry red.
On this late-summer morning Katya trips along smiling openly and often at people she has never seen before; might never see again. "Goot Mornink," she beams, her lips forming the words with care. She seems not to notice the blank stares, the turned heads, the mutters and expletives that follow in her wake. She's oblivious of the guffaws, and the mimicry. It's not until she walks through the back door of The Great Northern Hotel in Sydney Road that her greeting is acknowledged.


"Ow good, ere's Catcher," Dawn Mullins yells through to the kitchen. "You can set right to with these spuds," she instructs. "Cook needs em in a hurry."


Removing a layer of bits and bobs, Katya covers herself with a heavy-duty brown overall. She trades her sandals for rubber boots, picks up a knife and sets to work at the scullery sink.

Want to find out what happens to Katya? Look out for Her Divided Heart next year.